Linguistic Geometry of Surat Al-Hamd
Keywords:
Surat Al–Hamd, Linguistic Geometry, Gratitude, Praise, Prayer.
Abstract
Discussion on the linguistic structure of Surat Al-Hamd rather than being the extensive interpretation issues which are highlighted in the history of religious culture, presents a methodological inquiry with new approaches to the field of Language and Literature. The origin of this method is that of which that selects brevity instead of detail, and instead of subjective and abstract structures, discloses a sensual and objective geometry; i.e., the basis of this article has been derived from a plan for three areas of gratitude, praise and prayer, which is definitely learnable and spectacular in the linguistic structure of Surat Al-Hamd. Certainly, by clarifying the linguistic structure of Surat Al-Hamd, the reasons for the supremacy and conspicuousness of this Surat, and its base in the religious discourse and its incomparable role in devotions and prayers become more apparent. The first manifestation of this linguistic geometry is in the verse of Tasmiyat or Bismillah al-Rahman al-Rahim, in which God's gratitude with praise are intertwined to direct the speech and behavior of believers. Six parts of this essay are all about three sides of semantic and linguistic context of Surat Al-Hamd, which are arranged one by one in the framework of resources of the language of mysticism and the mysticism of the language, and it places the literary researchers as its audience.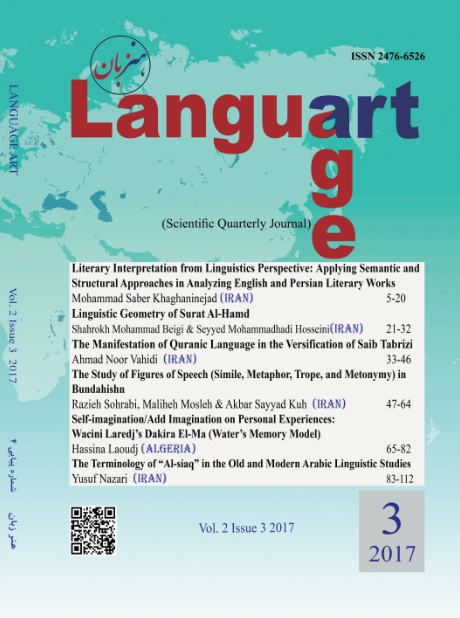 Downloads
How to Cite
محمدبیگی ش., & حسینی س. م. (2017). Linguistic Geometry of Surat Al-Hamd. LANGUAGE ART, 2(3), 21–32. https://doi.org/10.22046/LA.2017.14