Academic Performance and Universal Design for Learning (UDL): From Training and Supervision Responsibilities to Establishing Social Responsibility
Keywords:
University Education, Academic Institutions, Universal Design of Learning, Training and Coaching Responsibilities, Social Responsibility.
Abstract
This work aims to highlight the importance of Universal Design of Learning (UDL) in the development of exceptional academic performance manifested by the achievement of the interconnection between two elements: 1. Taking into account the biological, physiological, cognitive, and cultural specificities of individual learners, and qualifying them for a possible positive integration in the scientific, intellectual, and cultural globalization rooted in all aspects of our daily life and 2. Strengthening the role of universities (and higher education institutions in particular) in promoting students' spirit of social responsibility, and in training/coaching them for active involvement in their society. This is essential for students to achieve harmony between what defines their Arab intellectual and civilizational identity and what constitutes their manifestations in the global scientific and intellectual fabric.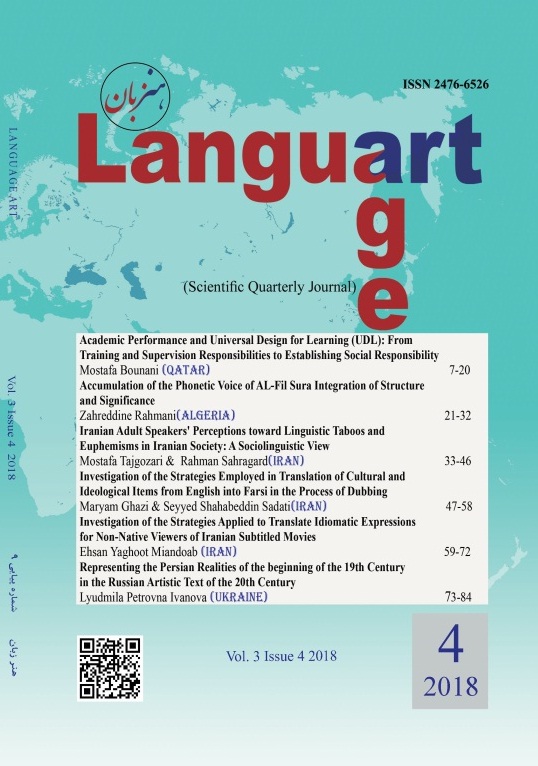 How to Cite
Bouanani, M. (2018). Academic Performance and Universal Design for Learning (UDL): From Training and Supervision Responsibilities to Establishing Social Responsibility. LANGUAGE ART, 3(4), 7–20. https://doi.org/10.22046/LA.2018.19