Fansubbing and Professional Dubbing in Comic Movies: A Case Study of Taboo Renditions in Deadpool and The Interview
Keywords:
Fansubbing, Professional Dubbing, Comedy, Taboo Words, Deadpool, The Interview
Abstract
As a field of study, translation deals with rendering one language into another considering their linguistic features and cultural characteristics. 'Fansubbing' and 'Professional Dubbing' have drawn the researchers' attentions and they have begun to investigate these versions of translation. This essay aims at exploring the differences between taboo renditions in professionally-produced and fanproduced subtitles of the selected comedies, Deadpool and The Interview. They are categorized based on Hashemian, Hosseini, and Mirzaei's (2019) model. It classifies the strategies of translating taboo words into four main groups: 'Taboo to Taboo', 'Taboo to Non-taboo', 'Euphemism', and 'Deletion'. In 'Professional Dubbing' version of these comedies, 'Taboo to Non-taboo' with the frequency of 46.7% was the topmost applied strategy in the rendition of the taboo words. In Fansubbing version, the strategy of 'Taboo to Taboo' was the most common one with 48.7% frequency. Analysis of Chi-square results considering p <0.05 indicates a meaningful difference between fansubbing and professional dubbing versions of these two movies.
References
Afifah, L. N., Hartono, R., & Yuliasri, I. (2018). Translation technique and grammatical equivalence in Indonesian English translation of central java visitor guide. English Education Journal, 8(2), 254-264.
Alavi, S. Y., Karimnia, A., & Salehi Zadeh, S. (2013). Translation of taboos from English into Persian: A skopos-based study. Elixir Ling. & Trans, 54, 12289-12292.
Bateson, M., Callow, L., Holmes, J. R., Redmond Roche, M. L., & Nettle, D. (2013). Do images of 'watching eyes' induce behaviour that is more pro-social or more normative? A field experiment on littering. PloS one, 8(12), e82055.
Habibovic, A. (2011). Taboo language: Teenagers' Understanding of and Attitudes to English Taboo Language.
Hashemian, M., Hosseini, M., & Mirzaei, A. (2019). Dubbing English Culture-Specific Items into Persian: A Case of Taboos in IRIB's Hollywood Films. Teaching English Language, 13(2), 1-22.
Jay, T. (2009). The Utility and Ubiquity of Taboo Words. Perspectives on psychological science, 4(2), 153-161.
Khan, M. K., & Parvaiz, A. (2010). A descriptive analysis of diminishing linguistic taboos in Pakistan. Strength for Today and Bright Hope for Tomorrow Volume 10: 8 August 2010.
Liang, L. (2018). Translation and Transcultural Creativity: A Comparison of Chinese Authorized Subtitling and Fansubbing in the Case Study of Notting Hill (1999). TranslatoLogica: A Journal of Translation, Language, and Literature, 2, 26-48.
Liedlich, R. D. (1973). Coming to Terms with Language: An Anthology. New York: Willey Publications.
Lörscher, W. (2005). The translation process: Methods and problems of its investigation. Meta: journal des traducteurs/Meta: Translators' Journal, 50(2), 597-608.
Mattsson, J. (2006, May). Linguistic variation in subtitling: The subtitling of swearwords and discourse markers on public television, commercial television and DVD. In MuTra 2006–Audiovisual Translation Scenarios: Conference Proceedings (pp. 47-56).
Munday, J. (2007). Translation and ideology: A textual approach. The translator, 13(2), 195-217.
Qanbar, N. (2011). A sociolinguistic study of the linguistic taboos in the Yemeni society. Modern Journal of Applied Linguistics, 3(2), 86-104.
Rahmani, N., Rahbar, B., & Oroji, M. R. (2019). Types and Functions of Linguistic Taboos in Iranian Movies. Journal of Language Horizons, 3(2), 235-249.
Robinson, D. (2007). Translation and empire: postcolonial theories explained. Foreign Language Teaching and Research Press.
Trulyfiona, T. (2014). An analysis of taboo words used by characters in freedom writers movie (Doctoral dissertation, Brawijaya University).
Van Tonder, L. C. (2018). Fansubbing and Its Potential for Language Learning. University of Johannesburg (South Africa).
Wardhaugh, R. (2006). Words and culture. An Introduction to Sociolinguistics, 5th Ed, Blackwell Publishing, 221-41.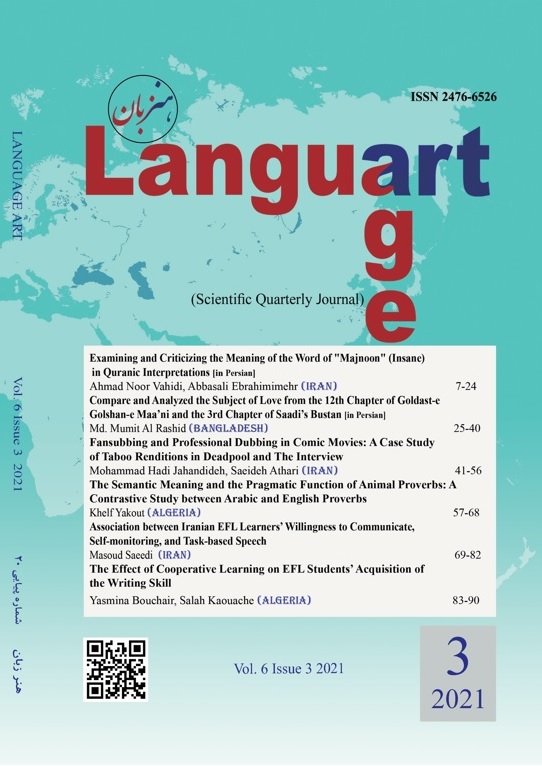 Downloads
How to Cite
Jahandideh, M. H., & Athari, S. (2021). Fansubbing and Professional Dubbing in Comic Movies: A Case Study of Taboo Renditions in Deadpool and The Interview. LANGUAGE ART, 6(3), 41–56. https://doi.org/10.22046/LA.2021.15
License
Copyright (c) 2021 Mohammad Hadi Jahandideh, Saeideh Athari
This work is licensed under a Creative Commons Attribution 4.0 International License.