The Manifestation of Quranic Language in the Versification of Saib Tabrizi
Keywords:
Saib's Divān, Quran's Language, Quranic Concepts, Allusion, Influence.
Abstract
During the history of Persian Literature and Poetry, few poets have not used the endless ocean of religious and Quranic knowledge and concepts in their poems. Because most of the poets were familiar with Quran, Tradition, and the Household, they have enjoyed these concepts in their poems in different ways. Saib Tabrizi was one of these poets who were under the influence of Quran's language in his poems, so he used ethical and Quranic concepts in various manners within the contents of his poems. These concepts include Monotheism, Theology, the Heavens, Resurrection, the Stories of Prophets, Ethics, etc. and sometimes, he used allusion and sometimes he brought a verse or a part of a verse within the content of his poems. The aim of this article is to study how Quran has influenced Saib. The method of the research is descriptive analytical and it is library-based.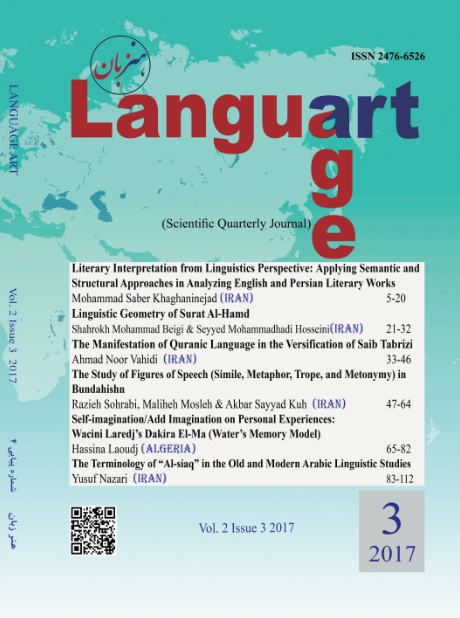 Downloads
How to Cite
وحیدی ا. (2017). The Manifestation of Quranic Language in the Versification of Saib Tabrizi. LANGUAGE ART, 2(3), 33–46. https://doi.org/10.22046/LA.2017.15