Representing the Persian Realities of the beginning of the 19th Century in the Russian Artistic Text of the 20th Century (Based on Tynianov's Novel "The Death of Vazir Mukhtar")
Keywords:
Scientist-writer, Poet-diplomat, Linguo-imagological Analysis, Harem, Eunuchs.
Abstract
The article is devoted to linguo-imagological analysis of the image of Persia of the 19th century in the Russian language consciousness of the 19th and 20th centuries. The material for the study was the novel of the historian writer Yu. N. Tynianov's "Death of Vazir Mukhtar", dedicated to the last year of life and the tragic death of the poet-diplomat A. S. Griboyedov. The subject of the description in the article was two realities of Persian being, usually the first arising in the minds of people who are not carriers of culture of that time-the Shah's harem and eunuchs. The key characteristic of the harem is the army, the eunuchs are emptiness. These realities, like all the others, are presented as objectively as possible, with artistic instructions on the cause and effect of all events, that is, Yu. N. Tynianov appears as a historian scientist and a talented writer.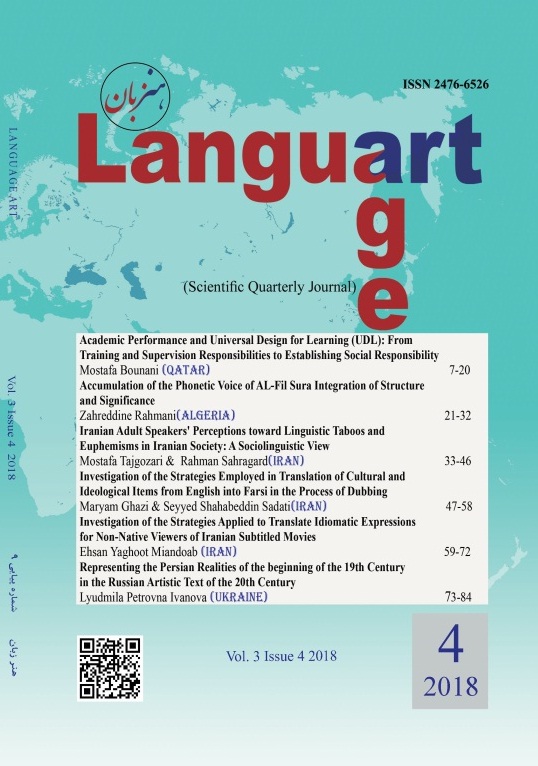 Downloads
How to Cite
Ivanova, L. P. (2018). Representing the Persian Realities of the beginning of the 19th Century in the Russian Artistic Text of the 20th Century (Based on Tynianov's Novel "The Death of Vazir Mukhtar"). LANGUAGE ART, 3(4), 73–84. https://doi.org/10.22046/LA.2018.24